The Sociolinguistics of Higher Education
Language Policy and Internationalisation in Catalonia
Josep Soler & Lídia Gallego-Balsà
Palgrave Pivot, 2019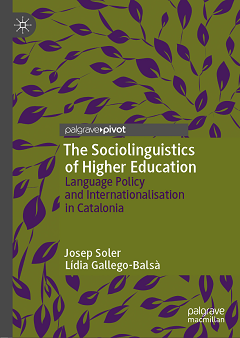 This book investigates the sociolinguistic dimension of the internationalisation of higher education, examining the linguistic tensions and ambiguities experienced by universities around the world, particularly in non-anglophone contexts. Joining current debates within discursive and ethnographic approaches to language policy, the authors analyse the narrative emerging from university language policy documents, and then trace the stance-taking processes of different stakeholders at a small university in Catalonia. They pay particular attention to how teachers, administrative staff, and exchange students position themselves in connection to the role of Catalan and its coexistence with other languages at the university. This book will be of interest to language policy scholars and practitioners, as well as graduate students in sociolinguistics and applied linguistics.
Reviews
"This timely book offers a compelling account of the tensions between internationalisation and national priorities in higher education – as seen through Catalan language policies. Written by renowned experts in the field, it is a must read for researchers, policy makers and anyone even remotely interested in the profound sociolinguistic changes higher education systems across the world are grappling with." (Anna Kristina Hultgren, Senior Lecturer in English Language and Applied Linguistics, The Open University, UK)
"Essential and stimulating reading for anyone studying the language impacts of internationalisation in higher education institutions in non-anglophone and minority language contexts. Through their critical, constructive and insightful analyses of original data from a university in Catalonia, the authors show us the tensions arising from the competition between Catalan, Spanish and English amidst national and global goals, and weigh up the position of the Catalan language and its prospects." (Peter Garrett, Emeritus Professor, School of English, Communication and Philosophy, Cardiff University, UK)
About the authors
Josep Soler is Assistant Professor of Applied Linguistics at the Department of English, Stockholm University, Sweden. His main research interests cover the areas of language policy and linguistic ideologies; he has recently focused on the role of English in the internationalisation of higher education, and on the study of practices and ideologies in multilingual families.
Lídia Gallego-Balsà is a Post-doctoral Researcher and Lecturer at the Department of English and Linguistics at the University of Lleida, Spain. Her interests include multilingualism, language policy, internationalisation, interculturality, discourse analysis, and ethnography.