The Shetland Dialect
Peter Sundkvist
Series: Routledge Studies in World Englishes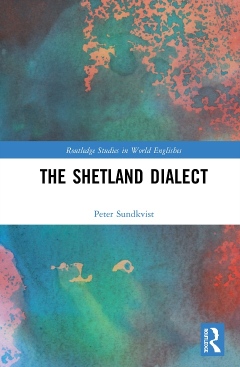 The traditional dialect spoken in the Shetland Isles, the northernmost part of Scotland and Britain, is highly distinct. It displays distinct, characteristic features on all linguistic levels and particularly in its sound system, or its phonology. The dialect is one of the lesser-known varieties of English within the Inner circle. Sundkvist's comprehensive description of the dialect is intended to serve as an accessible reference source on one of the most distinct lesser-known varieties of English within Britain; a documentation and systematic account of its rich regional variation; and a resource for scholars working in historical or Germanic linguistics.

"This book provides detailed documentation of the complex dialect situation in Shetland, where local social and geographic conditions allowed the maintenance of a range of diverse forms of Scots well into modern times. This diversity is in decline, and the extensive fieldwork on which the book is based probably represents the last opportunity to undertake such a survey. The results are presented in meticulous detail, including acoustic studies and an analysis of the balance between vowel and consonant quantity, a topic of great importance in the phonology of Germanic languages. The book will be of great value to scholars interested not only in the phonology of Scots but in broader issues of dialect geography and language contact."
Stephen R. Anderson, Dorothy R. Diebold Professor of Linguistics (Emeritus), Yale University

About the author
Peter Sundkvist is an Associate Professor and Reader in the English Department at Stockholm University. His fields of research include phonology, phonetics, and dialectology, relating to varieties of English and Germanic languages more generally. He has conducted extensive linguistic fieldwork in the Shetland Islands as part of several projects. He has also published on accent stereotypes and Asian Englishes, including those of China and Vietnam.
https://www.routledge.com/The-Shetland-Dialect/Sundkvist/p/book/9780367527839