The Ethos of History
Time and Responsibility

Edited by Stefan Helgesson and Jayne Svenungsson
Afterword by Hans Ruin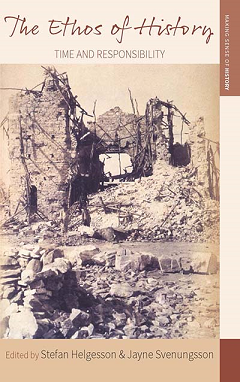 At a time when rapidly evolving technologies, political turmoil, and the tensions inherent in multiculturalism and globalization are reshaping historical consciousness, what is the proper role for historians and their work? By way of an answer, the contributors to this volume offer up an illuminating collective meditation on the idea of ethos and its relevance for historical practice. These intellectually adventurous essays demonstrate how ethos—a term evoking a society's "fundamental character" as well as an ethical appeal to knowledge and commitment—can serve as a conceptual lodestar for history today, not only as a narrative, but as a form of consciousness and an ethical-political orientation.
Reviews
"This well-written volume offers plenty of material for cultural and literary studies as it explores how to live with the past, and how the past lives in us." - Jouni-Matti Kuukkanen, University of Oulu, Finland
"This book is very useful for understanding the relationship between ethos and temporality. In showing how ethical questions blur the boundary between past, present, and future, it represents an important contribution to the literature." - Harry Jansen, Radboud University, Nijmegen, The Netherlands
About the Editors
Stefan Helgesson is Professor of English at Stockholm University. He is the author of Writing in Crisis: Ethics and History in Gordimer, Ndebele and Coetzee (2004) and Transnationalism in Southern African Literature (2009), has edited volume four of Literary History: Towards a Global Perspective (2006), and is co-editor (with Pieter Vermeulen) of Institutions of World Literature: Writing, Translation, Markets (2015).
Jayne Svenungsson is Professor of Systematic Theology at Lund University. She is the author of Divining History: Prophetism, Messianism, and the Development of the Spirit (2016), and has edited (with Alana M. Vincent and Elena Namli) Jewish Thought, Utopia and Revolution (2014) and (with Jonna Bornemark and Mattias Martinson) Monument and Memory (2015).