Of butterflies and birds, of dialects and genres
Essays in honour of Philip Shaw
Edited by Nils-Lennart Johannesson, Gunnel Melchers, and Beyza Björkman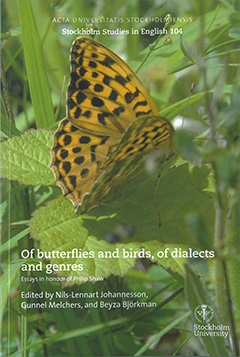 This volume is a tribute to our friend and colleague Philip Shaw, Professor of English linguistics at the Department of English, Stockholm University, on the occasion of his 65th birthday.
Philip joined our department as a Senior Lecturer in the year 2000 and was promoted to Professor in 2005. For two years (2006–2008) he also worked part-time as a guest professor at the Unit for Language and Communication at KTH, the Royal Institute of Technology.
Philip has carried out research and published widely in a variety of fields, such as phonetics, word formation, language for special purposes, second language acquisition, academic writing and World Englishes. Some of these fields were new to the department, and others were reinforced and stimulated, which has led to fruitful cooperation among colleagues. It was not long before Philip became instrumental in setting up research projects within the department as well as with other institutions at Stockholm University and elsewhere.
Philip is also a devoted and versatile teacher who has taught and developed a great number of courses at every level of our department, from first-term language-proficiency classes to graduate seminars and lectures.
In addition to being an eminent linguist, Philip is—among other things—a devoted reader of fiction and passionately interested in birds, flowers, and butterflies. He is a convinced environmentalist and makes a point of always travelling by train if possible.
The 22 contributions to this volume by friends and colleagues worldwide bear witness to Philip's academic versatility as well as his interests beyond academia.
Cover photograph © Gregory Garretson
ISBN 978-91-87235-34-4
ISSN 0346-6272