Investigating English in Europe: Contexts and Agendas
New book published with contributions from Beyza Björkman and Josep Soler-Carbonell.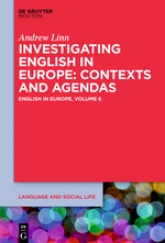 This book is an invaluable resource for anyone interested in researching or just learning more about the changing role and status of English across Europe. The status of English today is explained in its historical context before the author presents some of the key debates and ideas relating to the challenge English poses for learners, teachers, and language policy makers. The Nordic countries provide a focused case study.
Last updated: September 6, 2016
Page editor: Anja Nyström
Source: Department of English