Culture Control Critique
Allegories of Reading the Present

Frida Beckman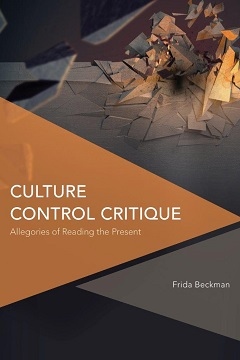 Culture Control Critique is an attempt to address the current crisis in cultural critique, situate it in relation to what it sees as a powerful tendency toward political allegory in contemporary Anglo-American mainstream culture, and analyse how this tendency can be understood in relation to the totalizing tendencies of control society.
Reviews
"This book is essential reading for anyone interested in the fate of cultural critique at the present moment. Beckman deftly limns out the contours of our contemporary 'control society,' and then zeroes in on the current trend for producing cultural productions that take themselves to be allegories of this condition (everything from DeLillo's fiction to The Hunger Games). This is important work, furthering our ongoing, collective diagnosis of the present."
Jeffrey T. Nealon, Edwin Erle Sparks Professor of English and Philosophy, Penn State University
"Linking control with central concepts such as vision, Culture, Control, Critique offers the reader an impressively wide range of textual examples that examine control through readings from Plato through to reality television. The result is a very thorough study of the nuances of the terms of control, and how it has historically been applied, and how it might be used for theoretical studies of media forms including film, television, and literature."
Felicity J. Colman, Professor of Film and Media Arts, Manchester Metropolitan University
About the author
Frida Beckman is an Associate Professor in the Department of English at Stockholm University.
London: Rowman & Littlefield International, 2016
Series: Critical Perspectives on Theory, Culture and Politics
ISBN: 978-1-78348-800-1
Information from the publisher. More information is available at http://www.rowmaninternational.com/books/culture-control-critique