Handstyle and detective work - 14th December 2020
Several people wrote in the Ormulum manuscript, for various reasons.
The Ormulum manuscript, MS Junius 1, is an old document and has been through many hands. We believe that it was kept by Orrm in his monastery in Bourne, Lincolnshire until his death in around 1180. After that, we can assume that it stayed there until the Dissolution of the Monasteries in the late 1530s. At some point, however, it became the property of Sir Thomas Aylesbury (1576–1657). Aylesbury was an English civil servant and mathematician who, as a cavalier, was loyal to the king during the English civil war. During the Commonwealth, many of the king's supporters were forced to flee England, often at great expense. Aylesbury fled to the Netherlands and died, aged 81, in Breda. Jan van Vliet (1622–1666) , a Dutch civil servant and philologist, bought the manuscript from Aylesbury estate, and signed folio 2r with his (very florid) signature, date (1659, 6. Febr.) and the price.

It is clear that the antiquity of the manuscript was well-known, considering that Van Vliet paid 18 guilders for it (around US$1000 according to Willem van Osnabrugge). However, its uniqueness could hardly have been known. After Van Vliet's death, the manuscript passed into the hands of his friend and fellow philologist Franciscus Junius (1591 – 1677), also Dutch, though living in England. Junius donated much of his library to the Bodleian Library in Oxford, which is where it remains.
During the 500 years-or-so between Orrm starting his manuscript and Junius bequeathing it, any number of people might have written in it. It is clear that most of the writing is in Orm's unique and instantly identifiable medieval style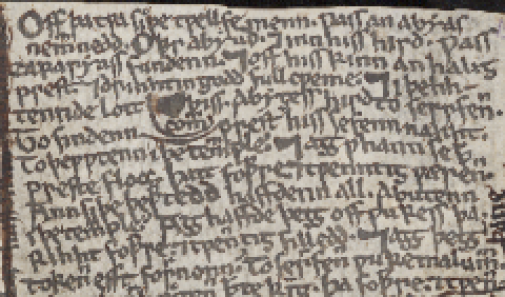 Orm used a dark brown ink, probably intended to be more-or-less black. He had a rather heavy hand with thick strokes. He also tended to follow the curve of the paper and move slightly upwards towards the right. This is hand A. There are also later additions by a person who was apparently Orm's amanuensis, known as "Hand C". There is also a Hand B, and apparently a Hand P mentioned in various secondary sources, but I am still working out exactly what everyone has meant by these terms during the last few hundred years, as there is apparent inconsistency in the descriptions. Hand C doesn't quite understand Orrm's alphabetical principles and makes quite a few mistakes. Later, we see evidence of Van Vliet making annotations, such as noting the bible verses, numbering the columns and making (mistaken) corrections to Orrm's spelling system. Van Vliet probably made the most modern annotations, which are easy to spot because he used a particular greenish-grey ink which is very different from the medieval inks. However, Junius may also have made annotations, as may any number of unknown people. Part of learning to understand the manuscript lies in using clues from handwriting style and close examination of the ink to determine who wrote which piece of text, when and why.
-Andrew