Teaching at our department, autumn term 2020 and spring term 2021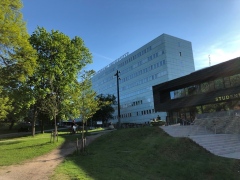 Given the current situation with the coronavirus, the current autumn term and the upcoming spring term 2021 will be a bit different. However, our courses will be offered as planned and we look forward to welcoming you as a student at our department. We hope this information will answer questions that you may have.
Teaching during this time
Due to the covid-19 outbreak, the Department of English decided that all our teaching in the autumn term 2020 will be given as web-based teaching via Zoom. There is no teaching or examinations on campus during the current autumn term for our courses.
For the upcoming spring term 2021, teaching will continue to be web-based via Zoom and there will be no teaching on Campus. However, examinations for courses with written exams ("salstentamina") will take place on Campus if recommendations from the Public Health Agency allow for that.
Please note that even though teaching will be online, the courses are not distance courses. That means, for instance, that lectures, workshops and seminars are given when indicated in the schedules and are not accessible in recorded form at other times. For all intents and purposes, the only difference to normal courses given on campus is that teaching will be online. Students admitted to courses with written examinations ("salstentamina") should note that these will take place on Campus during the spring term - more information for each course will follow by mid-December (see below under 'Course information').
In all other respects, teaching will follow what is stipulated in the courseplans regarding, for instance, attendance requirements and other matters.
Course information
Ahead of the spring term 2021, schedules and information about each course will be provided on the course sites by mid-December. This will include information about which courses will have written examinations ("salstentamina") on Campus in the spring.
Teachers will use the e-meeting service Zoom for lectures, workshops and seminars. It is free of charge for all students at Stockholm University. Admitted students will also get access to the Athena learning platform after having registered for a course. On Athena, teachers will post more information specific to your course. Registration for the spring term 2021 will take place in January.
Contacting us
Due to the current situation with the coronavirus, the department's premises continue to be closed. You can contact administrative staff at our department via email or during phone hours: