Tom Bradstreet, Master's student in English Literature
Tom Bradstreet is a former student on the Master's Programme in English Literature at Stockholm University. Here he tells us about his experiences of studying in Stockholm.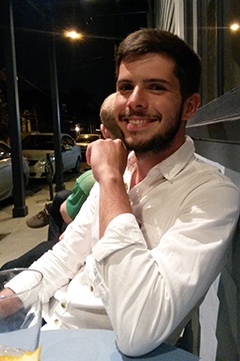 "My decision to apply to Stockholm University involved a big dose of good fortune. After studying in the UK for three years, my girlfriend – who was born and raised in Stockholm – asked if I would like to move to Sweden. Once I arrived, I started exploring my options. Still, I wouldn't have applied to a university and a department without feeling confident that both were of a high calibre. After visiting the department to watch a Master's student defend her thesis, I was convinced that Stockholm University was the place to continue my studies. The open-mindedness of the discussions, the supportive atmosphere, the spirit of critical inquiry… I could immediately envisage myself studying in that kind of environment.
My experience of Stockholm University and the Department of English has been overwhelmingly positive. When I applied for the programme, I wondered vaguely if studying English in Sweden – a country where English is not the native language – would be as challenging as I hoped. In hindsight, I was giving myself far too much credit! The course has been rigorous and stimulating from day one, exposing me to ideas and perspectives I'd never encountered before. The faculty and staff in the department are friendly, supportive, and professional. I suppose the best compliment I can pay the department is that the programme has inspired me to apply for doctoral studies – and that, given the opportunity, I would love to continue my studies at Stockholm University.
I had lived in Stockholm for a year before starting my studies at SU, so I already had a feel for the city when the programme began. If anything, however, my experience improved upon becoming a student. One hears horror stories about the cost of living in Stockholm, but it's perfectly possible to live a fun and full life here on a student budget. It's a wonderful city: large enough to offer everything one would expect of a capital city, small enough to navigate without losing days stuck in traffic. It's clean, well-connected, rich in culture and history – and, although I'd recommend learning Swedish if possible, the level of English among the majority of locals is excellent.
New friendships notwithstanding, I would make special mention of the international flavour of the programme as the best thing about my studies. Much as I love the university where I did my undergraduate degree, an English degree at an English university is always going to result in a very English experience. Here, students from Sweden, India, Ethiopia, and the US will sit together and discuss, say, South African protest fiction. If the point of studying is to learn, to be inspired, to sharpen and multiply one's ways of thinking, to appreciate things from not just one new perspective, but many… if this is what studying is about, then I can think of few places better positioned to help that happen."