Olivia von Sydow, Global Management Programme
Olivia is enrolled in the Global Management Programme with English. In the first term of her English studies she took courses in both English linguistics and literature / creative writing at the Department of English. For her second term, she has been accepted to one of the Department's exchange agreements and will be studying English at the City University of Hong Kong.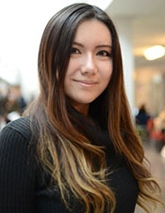 "I chose to study English as part of my Global Management program because I wanted to incorporate my passion for languages into my business administration and management core. In doing so, I am able to bring my increased proficiency and skills and transfer them into the globalized business context that I will be working in.
My experience at Stockholm University and the Department of English has been incredible - there is an absolute sense of community here where communication with faculty is open and encouraged, as well as an abundance of resources and academic support.
My studies of English Linguistics this term entailed a rigorous introduction to the field of linguistics with notable focuses on morphology, lexicology, gender studies, and workplace language practices. Additionally, my Creative Writing course entailed a challenging yet stimulating experience, one that allowed me to dedicate myself to my own creativity, while grasping the art of poetry and poetic form.
The best thing about studying English as part of my degree is knowing that by adding this additional element of language to my studies, I am positioning myself advantageously in the growing demand for multilingual professionals in the field of international business. I believe this will prove to be an invaluable advantage for my future international career.
I would most definitely recommend my experience here to other prospective students. If combining your interest in the English language with your passion for business in a supportive and innovative environment is what you're searching for, Stockholm University and the Department of English is a fantastic option."