Anton Marra, Master's student in Applied English Linguistics
Anton Marra studied on the Professional Language Programme, a Bachelor's Programme at Stockholm University, which led him to the Master's Programme in Applied English Linguistics.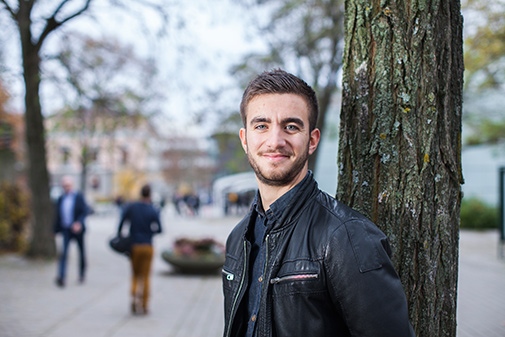 "During my bachelor's studies I found a field of study within linguistics I felt very passionate about. Once I learned that there was an opportunity to further expand my knowledge of that particular area in the Master's Program Applied English Linguistics, the choice was simple and obvious to make.
The experience at the Department of English and at Stockholm University has been better than expected. I wish to highlight that there is a certain upbeat and constructive rapport between the professors and students that I appreciated a lot, and I believe that it is something rare. Stockholm University, in general, is a terrific place to be at. The campus is large and there is a great variety of places to study, meeting points, exercise and so forth.
Regarding my studies, the best thing is definitely to write the thesis. Having the opportunity to work on something you feel passionate about is very important in succeeding as a student, in my opinion. Being motivated to perform to the best of your abilities by such an exhaustive project is not always easy, but with the wide variety of topics within both the programs at the Department of English, it was easy to do some nitpicking and find an area of great interest.
I would absolutely recommend attending Stockholm University and the Department of English for its experienced staff and the collaborative nature. It is noticeable that the programs are constantly evolving with the staff listening to what the students want, and that is a great feature for future students to recognize."
Do you have a question for Anton about studying English at Stockholm University? Ask him here.
Last updated: February 29, 2016
Page editor: Anja Nyström
Source: Department of English