Master's Programme in Literature, with a Specialisation in English Literature 120 credits
Within the Specialisation in English Literature you will develop advanced analytical and interpretive skills for the study of literature. You will gain a deeper understanding of specific issues within World Literature in English and learn to use advanced methods for the exploration of literary texts, both in terms of form and in terms of their relation to history, politics, ethics and more.
The theoretical level of the courses is high; at the same time, you will develop practical skills related to reviewing and editing literary works. As a student in the Master's Programme in Literature you will have access to a large selection of courses in English Literature and in the wider Humanities. A combination of compulsory and individually chosen courses will develop your knowledge and skills in this area, forming the basis for the writing of a strong scholarly Master's Thesis.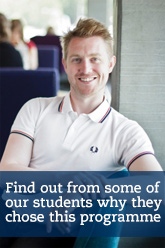 Giving an international and transnational perspective, the programme qualifies the students for doctoral studies in literary studies, but is also useful for work outside of the university. This is especially the case in fields where there is a demand for knowledge about the significance of language for communication and social development, and which require international broad-mindedness, historical competence and the ability to deal with complex information in a systematic and critical fashion.
The programme leads to a Master of Arts degree in English.
Further information about courses is available under: courses at advanced level (second cycle). Schedules and course literature is published ahead of each term.
Coordinator: Giles Whiteley
email: ma@english.su.se
How to apply
Applications for the programme is made through Universityadmissions.se (in English for international students) or through Antagning.se (in Swedish for national students). Check their websites for dates and deadlines for applications.
Education plan and application
The programme will be given in autumn 2019 and will open to international applicants on University Admissions at the end of November 2018
Admission requirements
A Degree of Bachelor of Arts, including 90 ECTS credits (major) in a discipline related to the course (English Literature). Applicants' knowledge of English must be documented by an international proficiency test: TOEFL test including TWE with a minimum of 630 (paper) 267 (computer) or 109 (Internet), or Cambridge Certificate of Proficiency with an A or B grade, or IELTS test with a minimum of 7.5 (and no module under 7), or the equivalent.
Please note that the English language requirement for this programme is higher than the basic English B/6 requirement. Exemptions from our requirement can only be given in some instances - please contact us for more information. The exemption cases listed on www.universityadmissions.se refer to the basic English B/6 requirement and therefore do not apply for our programme.
Information for admitted students, autumn 2018
Introductory information about the Master's programmes in literature will be sent out by the Department of Culture and Aesthetics, as the coordinating department.
There will be an introduction to the Master's programme with a specialisation in English on Wednesday 5 September at 11 am in room E824 (straight after the first seminar of the course Literary Interpretation. See below links to courses for full schedules).
Information for admitted students, autumn 2017
Last updated: October 18, 2018
Page editor: Anja Nyström
Source: Department of English