Master's Programme in Language Sciences with a Specialisation in Applied English Linguistics
The Master's Programme in Language Sciences with a Specialisation in Applied English Linguistics (120 credits) is intended to develop an understanding of how knowledge about language in general, and specifically English, can be applied in a variety of contexts such as professional communication, teaching, and translation. The orientation is towards the use of English as a world language of business and study in the multimodal environment of the present century. The programme aims to extend and develop students' knowledge in their chosen field of study, as well as to strengthen their inter-disciplinary knowledge of scientific theory, ethics and research methodology. Teaching consists of required courses that are common to the whole programme, required courses in the applied English linguistics, and optional courses within English and from a pool of courses offered by departments from the Faculty of Humanities.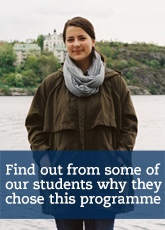 The programme-wide required courses provide an introduction to scientific method and to languages in use in general, and also training in writing academic texts in English. The specialised Applied English Linguistics courses form a broad survey of key areas of English in use: second language acquisition (how languages are learnt), discourse analysis (how texts are structured and used), language for specific purposes (how language and discourse varies according to functional domain, and how we can provide training in these variants) and research methods (how we can investigate the uses of language). Students can choose from a range of options developing aspect of these topics, such as World Englishes, English as a Lingua Franca, and Pragmatics, as well as less applied courses such as Phonology and Syntax. A key part of the degree is the dissertation written in the fourth semester on an applied-linguistic topic chosen by the student, after being trained in appropriate methods and reading recent research.
The programme leads to a Master of Arts degree in English. It is intended as a general basis for professional work in language-related fields, and may serve as preparation for Third Level studies (PhD level) in applied English linguistics.
NB! Next time this programme will be offered starting in the autumn term 2022.
Education plan and application
Further information about courses is available on: courses at advanced level (second cycle). Schedules and course literature is published ahead of each term.
Coordinator: Mikko Höglund
Admission requirements
A Degree of Bachelor of Arts, including 90 ECTS credits (major) in a discipline related to the course (English Linguistics). Applicants' knowledge of English must be documented by an international proficiency test: TOEFL test including TWE with a minimum of 630 (paper) 267 (computer) or 109 (Internet), or Cambridge Certificate of Proficiency with an A or B grade, or IELTS test with a minimum of 7.5 (and no module under 7), or the equivalent.
Please note that the English language requirement for this programme is higher than the basic English B/6 requirement. Exemptions from our requirement can only be given in some instances - please contact us for more information. The exemption cases listed on www.universityadmissions.se refer to the basic English B/6 requirement and therefore do not apply for our programme.
Admitted students, autumn 2020
Information to new students, admitted to the Master's Programmes in Language Sciences, will be sent out by the coordinating department (Department of Linguistics).
Study plan for our specialiation (see attachment). There will be an online introduction session for students admitted to our specialisation on Tuesday 1 September at 10 am. Information will be sent out to admitted students in August.
The two first courses during term 1 - Language in Use and Scientific method and research ethics - are given by other departments.
The two courses in the second part of term 1 - Discourse Analysis and Language Learning and Second Language Acquisition - are given by our department. Read the information about teaching at our department in the autumn term.
Course information will be updated ahead of the autumn term 2020 for each course.
Last updated: September 24, 2020
Page editor: Anja Nyström
Source: Department of English