Bachelor's programme in Global Management, English, 180 credits
At the Department of English, Global management students study alongside students from different programmes and they do so in a truly international setting where students and staff come from several different countries and continents, all of which contribute to a dynamic learning environment. Students get to choose four different optional courses on a wide range of topics within English linguistics and English literature. The areas covered include linguistics with topics such as English as a lingua franca and intercultural communication, creative writing and courses covering thematic as well as historical aspects of literature from all over the English speaking world.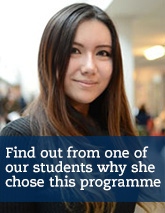 This programme is a collaboration between the Department of English and the Stockholm Business School. Education plan for the programme. More information about the programme can be found on Stockholm Business School website.
English, first term, 30 credits