Approaches to Postmodernism (ENPO75), 7.5 credits
Course description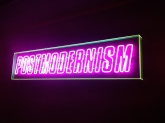 Most of us have some sort of idea of what postmodernism and postmodernity are. Whether we think of it primarily as a way of describing certain modes of cultural expression (Intertexuality? Pastiche? Experimental narrative?), a logic of a political and economic system (the end of ideology? The dissolution of grand narratives?), or a form of periodization (it is called "post" after all – does that simply mean it comes after Modernism?), or perhaps nothing that has much to do with literature and culture at all (architecture? History? Geography?), postmodernism and postmodernity are terms that are frequently used for example in media, at museum exhibitions, and, of course, in academic studies and research. The Master course Approaches to Postmodernism (7.5 hp) focuses on central discussions regarding the aesthetic, narratological, theoretical, and historical definitions of these concepts. Taking the course will give you a broad and deepened understanding of central literary and theoretical concepts associated with postmodernism.
Teacher
Frida Beckman is associate professor at the English Department. She wrote her doctoral dissertation on postmodern experimental narrative and has since then published various articles and books relating to postmodern literature, film, and graphic narratives as well as theories from the period.
Given in period 1.
Information autumn 2017
Note that the schedule is subject to change, in case of unforeseen circumstances.
Course literature: see attachment
Last updated: June 29, 2017
Page editor: Anja Nyström
Source: Department of English