Giles Whiteley awarded a sabbatical
Giles Whiteley, Associate Professor (docent) in English with a specialization in literature, has been awarded a sabbatical semester at Oxford University in the spring of 2021 to work on a critical edition of Walter Pater's Marius the Epicurean: His Sensations and Ideas (1885).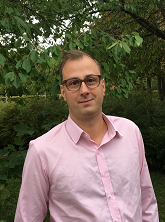 Whiteley will collate all of the textual variants between the three editions of this classic novel of late nineteenth-century Anglophone decadence, and conduct research into the novel in order to write the explanatory notes. The project builds on Whiteley's prior work on Pater, and will appear as volume two of the new ten-volume Collected Works of Walter Pater.
At Oxford, Whiteley will have access to the archives at Brasenose college, which hold a number of Pater's unpublished papers and other relevant archival material, as well as the College's library holdings themselves, which Pater consulted during his own research for the novel.
Whiteley's sabbatical will also contribute to further develop already existing relations between Oxford University and Stockholm University, and facilitate the continued establishing of networks.
About Giles Whiteley
Giles Whiteley is Associate Professor of English at the Department of English. His research focuses on comparative literature in English, with a particular emphasis on rereading nineteenth century British literature, and reconsidering the philosophical importance and implications of these literary traditions. More about Giles Whiteley's research.
Last updated: March 5, 2020
Page editor: Anja Nyström
Source: Department of English