The 2013 Metaphor Festival
EVENT
Date:
29 August 2013, 9.00 AM
-
31 August 2013, 6.00 PM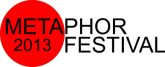 This year's Metaphor Festival, with nearly 100 participants from over 30 countries, will have three to four parallel sessions for most of the festival (see the preliminary programme for details), as well as two plenary sessions for our keynote speakers, and two workshops on Saturday morning, both led by Bo Pettersson, University of Helsinki. A complete presentation of the Abstracts is now available for downloading as a PDF; the final version will be available in printed form at registration.
Festival presentations: Each presentation is allotted 30 minutes, with roughly 20 minutes for the presentation and 10 minutes for discussion. There is also a separate poster session that can be visited by all participants.
Keynotes: Elena Semino, Lancaster University ("A Corpus-Based Study of Mixed Metaphor as a Metalinguistic Comment") and Monika Fludernik, Albert Ludwigs University of Freiburg ("Metaphors of Carcerality: Dickens and the Literary Tradition").
Conference fee: Early registration has closed, but we still have places for a few latecomers (conference fee: €100). Use the form available on this site.
Taxis: A special caution about taxis is in order, since there are no fixed tariffs. Always ask beforehand what the trip will cost. A reasonable price from Arlanda Airport to the central city areas is in the €35-50 range. (Also, see our page about getting to the Festival.)
General Information:
See the following links for matters such as the Social Programme, IT support, how to get to the Festival and so on: