Sanja Nivesjö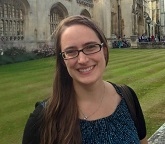 PhD student
Room: E838
Telephone: +46 (0)8 16 42 25
Office hours: by appointment
PhD Project
My PhD project concerns the confluence of sexuality and spatiality in Anglophone South African 20th century literature.
Sexuality has been an underexplored factor in relation to struggles of belonging in South Africa, in particular in connection to space. From colonial times to the present day, anxieties around sexuality and space have been used in attempts to police who belongs in the geosocial space and in the nation. This entangled power structure has been expressed, for example, in an obsession with keeping races spatially separate to prevent "miscegenation." Literature has provided a place to negotiate these anxieties in.
This is a diachronic project and it covers four main time periods in South African literature. The first chapter is focused on the entanglements of sexuality and space in the creation of (national) belonging in early South African literature and includes authors such as Sol Plaatje, Olive Schreiner, Pauline Smith, R.R.R. Dhlomo and Sarah Gertrude Millin. The second chapter looks at sexuality and exile and spatial displacement among primarily black authors from the 1950s (yet to be decided). The third chapter concerns notions of futurity and its connection to reproduction, interracial relations and spatial segregation and investigates authors such as J.M. Coetzee, Nadine Gordimer, André Brink, Sheila Fugard and Lewis Nkosi. Finally, the fourth chapter turns to the early 21st century and queer sexuality and national and international migration in novels by Damon Galgut and Phaswane Mpe.
The project aims to shed light on how a configuration of sexual and spatial relations has been a power factor in shaping belonging in South Africa from the early 20th century. I believe it is vital to examine this to understand how boundaries are still being written through sexuality in contemporary South Africa.
My PhD degree is part of a cotutelle with Justus Liebig University Giessen in Germany through the international network PhDnet in Literary and Cultural Studies. In October-December 2015 I spent three months at Justus Liebig University on a grant from the DAAD. In January-July 2016 I was a visiting researcher at Stellenbosch University, South Africa funded by the Helge Ax:son Johnson foundation and the Salén foundation.
My main supervisor is Stefan Helgesson from the Department of English at Stockholm University and my co-supervisors are Ann-Sofie Lönngren from Uppsala University and Ingo Berensmeyer from Justus Liebig University.
Research Interests
My general research interests are in queer theory, sexuality and gender studies, postcolonial studies, South African literature, African literature, and I also have a side interest in South American literature and in film studies.
Background
I hold an MA from the University of Sussex in Sexual Dissidence in Literature and Culture (2013) and a BA in English from Uppsala University (2011). I also did an MA (hons) in International Relations and Spanish at the University of St Andrews (2010).
I have worked with higher education policy in the UK for the 1994 Group and for the Council of Deans of Health and as a curriculum administrator at City College Brighton and Hove.
Publications
"Queering Form and Content: A Crisis of Whiteness in Nadine Gordimer's The Conservationist (1974) and J.M. Coetzee's In the Heart of the Country (1977)." Literature and Crises: Conceptual Explorations and Literary Negotiations, edited by Elizabeth Kovach, Ansgar Nünning, Imke Polland, Wissenschaftlicher Verlag Trier, 2017.
Selected Conference Presentations
4.02.16: Nivesjö, S. Dis-placed Desires in Colonial South Africa: Olive Schreiner's From Man to Man." CrossCurrents: Current Research in the Humanities, University of Cape Town.
20.01.16: Nivesjö, S. "Displaced Desires in Colonial South Africa: Olive Schreiner's From Man to Man." USAN, Stellenbosch University.
20-23.8.15: Nivesjö, S. "Failed Futurity: Sexuality and Whiteness in the Farm Novel of High Apartheid." Concurrences in Postcolonial Research – Perspectives, Methodologies, Engagements. Linneaus University.
16.6.15: Invitee to Spotlight Session "Feminist Cultural Studies: Gender, Nation, Migration." In the Flow: People, Media, Materialities. ACSIS.
7-10.4.15: Nivesjö, S. "Negotiating Modernity through Sexual Entanglements of the Urban, the Rural and the International: Phaswane Mpe's Welcome to Our Hillbrow." Gendered Modernities in Motion, University of Pretoria.
7.2.15: Nivesjö, S. "Travelling to Learn, Encountering Desire – Entanglements in African Intellectual Mobility." African Intellectual Mobilities: Diasporic Travel and Texts, Past and Present, University of York.
30.6-5.7.14: Nivesjö, S. "Dissident Sexuality and the Latency of Post-Conflict Trauma: Same-Sex Desires in Our Sister Killjoy." Latencies: Europe 1914-2014, IV Lisbon Summer School for the Study of Culture.
07.06.14: Nivesjö, S. "Queer Movements: Sexual Desire, Space and Home in Damon Galgut's In a Strange Room and Phaswane Mpe's Welcome to Our Hillbrow." Writing South Africa Now, University of York. Published on LitNet, 27.08.14, http://www.litnet.co.za/Article/queer-movements-sexual-desire-space-and-home-in-damon-galguts-in-a-strange-room-and-phaswa
11-12.04.14: Nivesjö, S. "Queer Sexuality and Postcolonial Trauma: Same-Sex Desires in Our Sister Killjoy." The Future of Trauma and Memory Studies, University of Illinois at Urbana-Champaign.
10.05.13: Nivesjö, S. "The (im)possibility of bisexuality on TV: male bisexual identity in Bob & Rose and Torchwood." ROLES: Third Annual Postgraduate Gender and Sexuality Conference, University of Birmingham.