Hannah Klaubert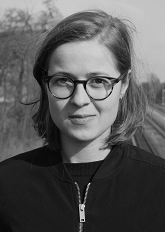 PhD student
Hannah Klaubert is a doctoral student based at Stockholm University and the Graduate Center for the Study of Culture (GCSC) at Justus-Liebig-University Giessen, Germany.
Her research focuses on fiction from the last three decades dealing with nuclear accidents and disasters. Through an (eco)narratological analysis of the aesthetic forms and strategies employed in literature and film, she aims to understand how the imperceptible threat of radiation and its impact on the human and non-human world are negotiated.
Hannah holds a BA in Comparative Literature and Philosophy from Freie Universität Berlin and an MA in Cultural Analysis from the University of Amsterdam. In Stockholm, she participates in the Doctoral School "Environmental Humanities" and in Giessen, she is a speaker of the Research Group Oikos.
Research focus:
Ecocriticism, (eco)narratology, nuclear disasters, nuclear humanities, environmental literature and film
Publications:
"Radiotoxic Flows in the World Risk Society: New Fictions of Nuclear Disaster." In: Ansgar Nünning/Vera Nünning/Alexander Scherr: Literature and Literary Studies in the 21st Century. Wissenschaftlicher Verlag Trier, 2019 (forthcoming).
"Beyond the West, Beyond the Canon. Feminist Ecocriticism Today." [Review on: Vakoch, Douglas A. und Sam Mickey (eds.): Literature and Ecofeminism. Intersectional and International Voices. London/New York: Routledge, 2018.] In: KULT_online 56 (2018).
"Culture and the Non-Human World in Crisis." [Review on: Marran, Christine L. Ecology without Culture. Aesthetics for a Toxic World. Minneapolis: University of Minnesota Press, 2017.] In: KULT_online 54 (2018).