Paul Schreiber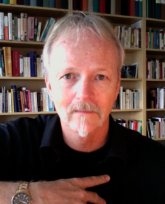 Associate Professor
Room: E848
Telephone: +46 (0)8 16 43 03
Mobile: +46 (0)70 734 94 45
Telephone hours and office hours: Tuesday 10-11 am
After a peculiar and abortive undergraduate education in Christian Pentacostal so-called "theology" (Sarah Palin's brand of God) and English, I received my Ph.D. in literature from the University of California at Santa Cruz – famous for its mascot, the banana slug. My dissertation was on the fiction and essays of the American novelist Walker Percy. I investigated the materially concrete imagery that resonates through his fiction and how it projects an essentially Catholic sacramentalism that mediates the existential alienation of his characters.
For a number of years my research interest turned toward Herman Melville's Moby-Dick, and some of his shorter fiction, particularly "Bartleby, the Scrivener." I have been fascinated with how Melville's fiction, through certain Romantic tropes, seems to anticipate some of the deconstructive gestures described by Jacques Derrida and Maurice Blanchot. I remain a distant and protective admirer of whales.
For the last three years I have also been exploiting my dual national identity in a more sociological bent, by investigating Swedish attitudes and biases towards American literature as observed through the awarding of Nobel prizes in literature, and comments by Nobel Committee members. This project is soon to be concluded.
In teaching, my interest has slowly shifted from fiction more towards poetry, poetic theory, translation of poetry, and the creative writing of poetry. I have been co-teaching the department's creative writing courses for nearly a decade, with a focus on poetry, while inviting successful fiction writers to teach fiction-writing. Over the last several years I have coordinated the creative writing courses for the Department of English.
At the Masters level I have initiated a course in Creative Writing and Editing with the goal of producing an annual small-press anthology that invites submissions from both within the creative writing courses, and from writers of short fiction and poetry in English throughout Sweden. The anthology of 2011 was called Stockholm Syndromes. In the future, the Creative Writing Program and anthology will go under the name of Two Thirds North.
My future research arises out of this course and will investigate the range of English language poetry and song lyrics that are written in Sweden. The enormous success of Swedish pop and heavy-metal music writers at globally marketing English language songs is at least one motivator for students to extend their education in English to the university level, and should be both a cause and subject of inquiry. In addition, it is clear that there is a significant number of expats, adoptees, and native Swedes who choose to write poetry in English. The extent and success of this field will be the focus of my ongoing research.
Selected Publications:
"Queequeg's Coffin and the Vortex -- The Spatiality of Ishmael's Narrative in Moby-Dick" Proceedings from the Sixth Nordic Conference for English Studies, Univ. of Tromsø Press, 1995
"Orphaned Orpheus: the Exiled Writer in Moby-Dick." The Writing of Exile, W. Kalaga and T. Rachwal Eds. Katowice: Slask, 2001
Stockholm Syndromes, an Anthology of Poetry and Short Fiction
. Editor. Stockholm: US-AB. 2011
"Ambivalent Paternalism among the European Consecrators: The United States and the Nobel Prize in Literature" (publication pending)
Last updated: October 13, 2016
Page editor: Patrik Ekström Mezek
Source: Department of English/Paul Schreiber