Hanna Salmi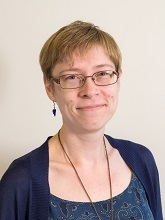 Lecturer
Room: E857
I have previously worked at the University of Turku, Finland, where I obtained my doctoral degree. I defended my dissertation in December 2017. In the dissertation, I focused on representations of conflict talk in early English debate poetry. Other research interests include visual communication in early English books and manuscripts, and I am currently working on a paper about paratextual communication and perceptions of reader-friendliness in early modern printed books.
My teaching includes courses in English proficiency and linguistics, academic reading and writing, and thesis supervision.
For more information, see my ORCID profile: https://orcid.org/0000-0001-6211-0000
Selected publications
Salmi, H. 2017. Early English Debate Poetry as Conflict Talk. PhD dissertation, University of Turku.
Salmi, H. 2017. "For I am woorthyer by muche then he: The functions of first person singular utterances in Early Modern English debate verse." Nordic Journal of English Studies 16 (1): 214–243. (Special number Texts from Speech and Speech in Texts, eds. Merja Kytö & Terry Walker.)
M. Peikola, A. Mäkilähde, H. Salmi, M.-L. Varila, J. Skaffari (eds.). 2017. Verbal and Visual Communication in Early English Texts. (Utrecht Studies in Medieval Literacy 37.) Brepols.
Salmi, H. 2014. "Visual Presentation of English Body and Soul Debates." Studia Neophilologica 86 (sup1): 144–156. (Special number Manuscript Studies and Codicology: Theory and Practice, eds. Merja Kytö & Matti Peikola.)