Gregers Andersen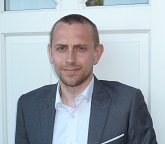 Postdoctoral researcher
Room: E827
gregers.andersen@english.su.se
Spanning from readings of contemporary literature, films, and artworks to broader readings of contemporary culture and theory, my research is situated within the expanding boundaries of the environmental humanities. In particular, I am interested in how literature, films and other art forms can – in dialogue with cultural theory and philosophy – shed light upon human and non-human conditions in the Anthropocene. In fact, I believe this question opens cultural studies to a new type of research that should be labeled 'cultural studies of the Anthropocene' and imply a radical renewal of ecocriticism.
Currently I am particularly interested in how various kinds of fiction portray the management of human and non-human resource consumption on a heated planet scarce on vital resources i.e. in the ontologies, scales, and technological apparatuses imagined to direct the management of humans and non-humans in future worlds low on vital resources such as food and clean drinking water.
This research interest springs from a larger study of Western climate fiction I have been conducting since 2010. The first major product of this study is the monograph Climate Fiction and Cultural Analysis. A New Perspective on Life in the Anthropocene, which was published by Routledge in October 2019.
I received my doctoral degree in arts and cultural studies from the University of Copenhagen in 2014 and held a position as a postdoctoral fellow at the same institution from 2014 to 2016. As a postdoctoral fellow in environmental humanities my current position is part of Stockholm University's initiative Environmental Research in the Human Sciences area.
Selected articles
"The Urgency of a New Humanities: Sensing the Anthropocene as a State of Exception". In: Anthropocenic Turn? The interplay between disciplinary and interdisciplinary responses to a new age. Eds. Dürbeck, G. & P. Hüpkes. Routledge. Forthcoming 2020.
"Biopolitics in the Anthropocene: On the Invention of Future Biopolitics in Snowpiercer, Elysium, and Interstellar". The Journal of Popular Culture 51 (3). Wiley Online Library, 2018, p. 615-634.
"Cli-fi and the Uncanny". ISLE: Interdisciplinary Studies in Literature and Environment 23 (4). Oxford University Press, 2016, p. 855-866.
"Guattari and Planetary Computerisation". Deleuze Studies 10 (4): Deleuze and Guattari in the Anthropocene. Edinburgh University Press, 2016, p. 531-545.
"The Destruction of Dwelling. Ecopoetics in the Anthropocene". Lo Sguardo. Rivista di Filosofia 21 (2): Filosofia E Catastrofe. Edizioni di Storia e Letteratura, 2016, p. 77-90.
Selected monographs
Climate Fiction and Cultural Analysis. A New Perspective on Life in the Anthropocene. Routledge, 2019.
Selected popular scientific books
Grænseløshedens kultur. Et opgør med hastighed, udmattelse og håbløshed i klimakrisens tidsalder. Informations Forlag, 2016.