Claudia Egerer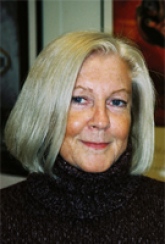 Associate Professor (Docent)
Room: E827
Office hours: by appointment
With my theoretical and intellectual background in post structuralism and my interest in issues of border-crossings, my teaching and writing has explored questions of otherness, marginality, silence, and the nonhuman. I am a co-founder of the Environmental Humanities Network at Stockholm University and I run the new research school theme in Environmental Humanities at Stockholm University in collaboration with environmental humanities-colleagues Christina Fredengren (Archeology) and Karin Dirke (History of Ideas), beginning in autumn 2018. My concerns with rethinking the place of the human and the humanities in times of climate change is explored in my teaching (the optional course "Ecopoetics" and MA course "Literary Limits") and in my research (two book-length studies, working titles: Imaginings of Water: Storying Anthropocene Anxieties and Wolf Matters).
Since I received my doctorate in 1996 I have taught at the University of Trondheim/NTNU, have been visiting scholar at the Institute for Research in the Humanities at the University of Wisconsin, Madison, and have now tenure at Stockholm University, where I served as deputy head July 2006 to July 2009, and as head of department July 2009 to July 2015.
"Have PhD, will travel." Academia equals mobility for me, so in keeping with my family motto 'boots not roots' I am engaged in establishing exchanges with universities worldwide to encourage and facilitate mobility for students and staff. I initiated the English department's faculty exchange with the University of Wisconsin-Madison, which now includes graduate students. I spent the fall semester of 2011 in Madison teaching a graduate course in post humanism with focus on 'the question of the animal.' In 2012, I instigated the English department's five-week-seminar series, with Carrol Clarkson from the University of Cape Town as our first guest; a seminar series that is still going strong. In June 2014, I participated in the inaugural meeting of the Global Academy of Liberal Arts (GALA) at Bath Spa University. Our participation in GALA has so far resulted in the formation of the Transnational Creatives group and an international research collaboration around the theme of lost waters.
On a more personal note, I am convinced that a literary text is, to cite one of my favorite authors, J. M. Coetzee, not a way of making messages taste nice, it is an other mode of thinking. A closet poet myself, I have a special love of poetry, with John Donne, John Keats and Rainer Maria Rilke as all time favorites. In my spare time, I run, sail, and struggle with the challenge of training bird dogs.

Selected publications:
"Insects, Worlds, and the Poetic in Coetzee's Writing." Textual Practice 30.3 (March 2016):493-509. http://dx.doi.org/10.1080/0950236X.2016.1158940
"The Speaking Animal Speaking the Animal: Three Turning Points in Thinking the Animal." Turning Points: Concepts and Narratives of Change in Literature and Other Media. Eds. Ansgar Nünning and Kai Sicks. Berlin/Boston: Walter de Gruyter, 2012.
"Nothing Matters." Journal of Cultural Research 8.2 (Spring 2004) Special issue on "Literature and Zero."
"The Image of Terror, Terrorism of Images in Leviathan and Mao II." Transnational America. Copenhagen; Museum Tusculanum Press, 2004.
"Ambivalent Geographies: The Exotic as Domesticated Other." Third Text: Critical Perspectives on Contemporary Art and Culture 55 (Summer 2001):15-29.
"Hybridizing the Zero: Exploring Alternative Strategies of Empowerment in J. M. Coetzee's Foe." Postcolonialism and Cultural Resistance. Eds. Jopi Nyman and John A. Stotesbury. Joensuu: Studia Carelica Humanistica 14, 1999. 96-102.
Fictions of (In)Betweenness. Göteborg: Acta Universitatis Gothoburgensis, 1997.
"Experiencing a Conference on Theory." New Literary History 26.3 (Summer 1995): 667-677.
Last updated: December 11, 2020
Page editor: Patrik Ekström Mezek
Source: Department of English/Claudia Egerer