Bo G. Ekelund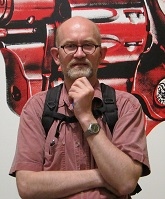 Associate Professor (Docent)
Room: E854
Office hours: in connection with teaching
Bo G. Ekelund received his PhD from Uppsala University in May 1995. He was a post-doctoral fellow at the Department of English in Uppsala from 1996 to 2000. Since the summer of 2000 he has been a senior lecturer at Stockholm University. Ekelund's dissertation, In the Pathless Forest: John Gardner's Literary Project, dealt with the US writer John Gardner, best known for novels like Grendel (1971) and The Sunlight Dialogues (1972). However, more than a study of a single author and his works, the dissertation used John Gardner as a lens through which changes in the US literary field from the late 1950s to the early 1980s could be explored. This interest in literary generations and large-scale shifts is present in the research project "Literary Generations and Social Authority," funded by the National Bank of Sweden Tercentenary Foundation. By analyzing three cohorts of US prose fiction writers, the project seeks to describe and explain the changing social status of literary authors in the United States during 60 years of the so-called American Century. 955 authors are included in the study, ranging from canonized writers like Carson McCullers, William Gaddis and Toni Morrison to genre and paperback writers like Cleve F. Adams, Philip K. Dick and Norma Ames. Another on-going research project is "Studies in an Undead Culture: Scenes of Recognition in literature and politics 1980-2000." This is a critical exploration of the notion of "recognition" in late 20th-century politics, theory, and literature. The study discusses the politics of identity, the debates over recognition and redistribution, and analyzes the structure of fictional "recognition" in a number of narratives. All of these research projects are marked by an adherence to a tradition of critical social theory, in recent times most forcefully represented by the French sociologist Pierre Bourdieu.
Selected publications:
"The Alien in Our Midst: trash culture and good Americans in John Gardner's October Light." Novel: a Forum on Fiction 30.3 (Spring 1997): 381-404.
"Space, Time and John Gardner." Pierre Bourdieu: Fieldwork in Culture. Ed. by Nicholas Brown and Imre Szeman. New York: Rowman, 1999. 215-240.
"Misrecognizing history. Complicitous Genres in The Remains of the Day."
International Fiction Review 32 (2005): 70-90.
With Mikael Börjesson. "Comparing Literary Worlds: A Geometric Data Analysis of the Fictional Universes of Two Cohorts of US Writers." Poetics 33.5-6 (October-December 2005): 343-368.
"History and other places in Toni Morrison's fiction." Studia Neophilologica 78.2 (Fall 2006), 1-15.
Last updated: October 3, 2014
Page editor: Patrik Ekström Mezek
Source: Department of English/Bo G. Ekelund