Anna Swärdh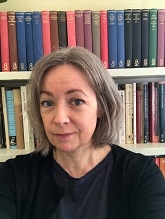 Senior Lecturer
Room: E820
I received my PhD from Uppsala University in 2003, and have since taught at Uppsala, Kalmar, Örebro, and Karlstad before coming to Stockholm in 2020. I teach and supervise on all three cycles, mainly literature but also academic writing.
My research focuses on early modern literature and culture, and I am also interested in how texts from the early modern period have been received over time.
In my dissertation Rape and Religion in English Renaissance Literature (Uppsala University, 2003) I studied four literary texts against the background of religious controversies in the wake of the English Reformation: William Shakespeare's Titus Andronicus and The Rape of Lucrece (both 1594), Michael Drayton's Matilda (1594), and Thomas Middleton's The Ghost of Lucrece (1600). This was a richly rewarding as well as emotionally taxing project, as it brought me into the world of early modern religious persecution, torture, iconoclasm, and rape legislation, and allowing close interaction with literary texts by some of the most powerful writers of the age.
The following project, entitled "The Emulative Complaint: Imitation and Innovation in Late Elizabethan Complaint Poetry" (Swedish Research Council/ Vetenskapsrådet, ref. 421-2006-1612), focussed on formal and generic aspects of a group of narrative poems that include Shakespeare's The Rape of Lucrece (1594). In this project, I was especially intrigued to see how the poets working within the genre influenced each other through competitive emulation, perhaps most readily reflected in their heroines' bragging about their relative chastity.
More recently, I have started exploring early-modern connections and exchanges between England and Sweden, mainly within the framework of the project "The Rhetoric of Patronage: Cultural Imprints of Helena, Marchioness of Northampton" (Swedish Research Council/ Vetenskapsrådet, ref. 2016-01521). The purpose of the project is to examine the highly rhetorical culture of the early modern English patronage system through cultural imprints left by the Swedish-born Helena, Marchioness of Northampton (born Elin Snakenborg; 1549–1635): travel writing, letters, portraits, architecture, and literary dedications all function as examples of rhetorical self-representation and manifestations of power within patronage. For instance, a letter from this time communicates relative social status through content and rhetorical style but also through its material dimensions (such as layout and handwriting).
I am Treasurer and board member of SWESSE, The Swedish Society for the Study of English, and Vice-President and board member of NAES, The Nordic Association of English Studies.

Selected publications
"Utter confusion on every side? Helena Northampton's Supplicatory Letter to the Earl of Sussex." Rhetorica: A Journal of the History of Rhetoric 39.1 (2021).
"James Bell's narrative of Cecilia Vasa's journey to England: travelogue as encomium." English Literary Renaissance 51.1 (2021).
Review: "Titus Andronicus då och nu" ("Titus Andronicus then and now"), review in Swedish of RSC's 2017 production of Titus Andronicus as broadcast live on cinema 9 August 2017. Shakespeare, journal of Shakespearesällskapet (the Swedish Shakespeare Society). No 3, 2017: 14–15.
"The 1904 discovery of the Titus Andronicus First Quarto in Sweden." The Library 17.4 (2016): 424–45.
"Hiding the Peacock's Legs: Rhetoric, Cosmetics, and Deception in Shakespeare's Lucrece and Trussell's Hellen." Mendacity in Early Modern Literature and Culture. Ed. Ingo Berensmeyer and Andrew Hadfield. New York, NY: Routledge, 2016. Ch. 1. [Republication of EJES (European Journal of English Studies) 19 (2015): 148-62.]
Review: "Julia & Romeo (Juliet & Romeo), a ballet presented by the Royal Swedish Opera, Stockholm, 24 March and 9 April 2016." EMLS (Early Modern Literary Studies) 19.1 (2016). Web. N. Pag.
"L'Adaptation Des Fins Shakespeariennes Dans L'Angleterre Du Xviiie Siècle : L'exemple Des Interventions De David Garrick." Revoir la fin – Dénouements remaniés au théâtre (XVIIIe-XIXe siècles). Dir. Florence Naugrette et Sylviane Robardey-Eppstein. Paris: Classiques Garnier, 2016. 407–424.
"'Much augmented' and 'somewhat beautified': Revisions in Three Female Complaints of the 1590s." Modern Philology 113.3 (2016): 310–30.
Review: "Richard III (Rickard III), presented by the Royal Dramatic Theatre, Stockholm, May 29, 2014." EMLS (Early Modern Literary Studies) 18.1–2 (2015). Web. N. pag.