Gül Bilge Han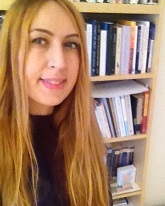 Postdoctoral researcher
Room: E866
Telephone: +46 (0)8 16 36 11
Publications
Article
"The Poetics of Relational Place-Making and Autonomy in Stevens." Wallace Stevens Journal 40.2 (Fall 2016): 143-171.
Book chapters
"Reframing the Concept of Aesthetic Autonomy: Frames of Separation and Engagement in Wallace Stevens's 'Secret Man'" Reframing Concepts in Literary and CulturalStudies: Theorizing and Analyzing Conceptual Transfers. Trier: Wissenschaftlicher Verlag Trier, 2014.
Forthcoming: "Jacques Rancière and the Political Dimensions of Aesthetic Autonomy in Wallace Stevens's Depression-era Poetry." Wallace Stevens and France. Paris: Presses de l'École normale supérieure Éditions rue d'Ulm, 2017.
Book Review
"Mannen med den blå gitarren by Wallace Stevens, and Klippan och andra dikter by Wallace Stevens". Wallace Stevens Journal Vol. 37.1 (Fall 2013): 115-119.